Hello, and welcome to September! It's an exciting time of year. Are you feeling ready to get organized and serious about your writing dreams? If so, today I've got a treat.
First, a bit of backstory.
Several weeks ago, I welcomed several new aspiring writers to my practice. Although they have different goals and plans for their writing, the heart of each of these women's writing dreams is this: to make writing a passionate, consistent and profitable part of their daily lives, and to make a real difference with their original ideas and truest voices.Each of these coachable clients showed up fully for our coaching calls.
Then, this happened.
After a single, 90-minute Deep Dive session with me, these aspiring (and soon-to-be) professional writers shared with me some remarkable, life-transforming results.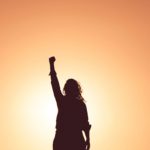 Here's a sampling of just of few of the "wins" my newest clients shared with me last week:
Secured a $20k coaching engagement
Overcame painful communication blocks with a significant other
Resumed creative writing– and enjoyed the process so much, afterwards it sparked tears of joy
What would $20,000, a renewed relationship, access to your deepest creative spark and newfound energy and CONFIDENCE do for you? For your writing dream?
Every coachable writer who's ever worked with me has had a life-changing breakthrough.These folks have earned money from writing. They've finished their book. They've created (or launched) a freelance writing business that allows them to meet their income goals, enjoy more time off, and gives them the energy they need to pursue their creative practice and truest writing goals.
Can I guarantee the same results will happen for you?
Yes. IF you do the work. ☺
Can I guarantee your career, relationships and creativity will improve dramatically in just one week? I cannot. The writers whose stories I've shared with you have worked hard, and each came to their coaching sessions ready to release the writing, business and personal blocks that have been holding them back for years.
You can, too.
Please remember: even if you're scared or overwhelmed or unclear about your path to writing – your voice, your ideas, your stories and your passions matter. Somewhere out there is a soul who needs to hear exactly what YOU have to say.
I'm here to help you.  Contact me here to request a complimentary coaching consultation. 
Warmly,
Marla