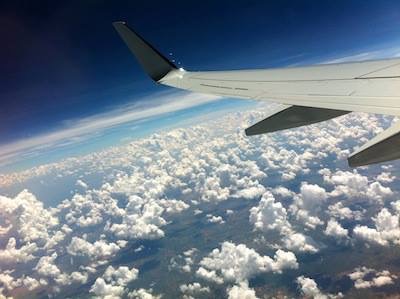 c. 2015 Marla Beck
I'm on a 6am flight out of San Francisco, headed to D.C. as I write this. Tomorrow my 8-year-old daughter and I will visit my mom on the Eastern Shore of Maryland.
For now, my little one is drifting to sleep on her tray table with a squishy travel pillow under her head.
I'm savoring this small bloom of solitude.  Feeling happy.
Why?
I'm happy because I finally remembered to pack the Y-connector, so my daughter and I can share music and chair-dance together, subtly of course, if we want to.
Happy because I actually got on this plane today.  (Ever feel mired in gooey inertia, laced with ribbons of doubt, fear and resistance as you start out on a big adventure?  That was me yesterday.)
Happy because I'm feeling connected to and nourished by Source.  Although I didn't do my usual daily morning routine, I'm being carried by it, and that feels great.
Happy because I know that the old Marla, if she were sitting here now in seat 35-B, would probably be feeling jangled, annoyed and tapped-out.
After all, seated directly behind me is a crying, teething infant.  (Evidently an infant with gas, according to her momma.)
And earlier, just before we left the gate, an irate passenger almost delayed our flight by standing up across the aisle and shouting at the indignity of being asked to reseat himself so a very, very tall Englishman could have more leg room.
Sigh.
Life's inconveniences will always be present, right?   
For me, life works happiest when I'm firmly focused on my own "plate" — knowing who I am, what matters to me now and how I'm choosing to be and do and create.
"Happiness comes most freely when it isn't pursued," says Pico Iyer. 
Where can you benefit from shifting your focus from the outside world to your own life, your own ventures, your own talent?
Hour by hour, we get to practice being and doing and enjoying our lives from the inside out.
Tomorrow my daughter and I will drive out of the DC suburbs, across the big bridge that spans the Chesapeake Bay.  And I doubt I'll try to be happy tomorrow. I'll just be as present and engaged and open as I can.
What a gift.  What an opportunity.
What an adventure!
With love from your coach,