Even smart people believe stuff that's not actually true.
Take, for example, our culture's love affair with striving. If you've ever worked hard to do life "right," then you know what I mean.
You may have worked hard, long hours, and then faulted yourself when your body rebelled against the stress.
You may have baked the cookies, chauffeured the children, donated time to so many school events you lost count, all while keeping a beautiful home. (At first, you enjoyed yourself. Then, you over-extended yourself. Finally you found yourself resenting  people, commitments and events — things that could've actually been fun.)
You may have focused on hitting major career marks, only to discover later on that you'd severely under-nourished the most precious of things — important relationships, your health or your dearest passions, as you struggled to achieve.
If you're reading this today, there's a good chance you're no longer ensnared in these cycles of achievement-via-burnout. Good for you! Whether by choice or by chance, you've begun to reorganize your life. You've got a little more control of your time. You've upped your focus on things like fitness, health and stress management. Perhaps you rely on a spiritual path.
You know without a question: writing truly matters.
Writing's a path to joy. Aliveness. Freedom.
Publishing is a path to earning money, influencing others, building an inspired career and being more YOU in the world.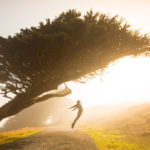 I'm not telling you anything new, right? You know how much writing matters… for your happiness, your purpose and your career.
Yet after all you've achieved, accumulated, and re-engineered to make room for more writing… why is your personal writing habit still on the back burner?
That novel manuscript is still there, tucked away on your hard drive. (There's also that series of unfinished essays. Or perhaps a few pitches you haven't completed.)
Perhaps your mind is telling you stories to keep you stuck. Stories like these –
"Art's not relevant."

"How can I invest my time in a project with such uncertain gains?"

"I'm not getting anywhere with this.  I know I can write, but this sucks."

"How do I know this is even the right project?"

"Why can't I just be happy with the life I have?"
(That last one's the kicker. The life you have? You're navigating all the good things with the soul of a writer. You have to be fully you to enjoy your life. You have to write to be happy.)  
Writers have to write, even if it seems a bit "weird" or impractical to non-writing friends. Even if they're still working on their craft. Even if they don't know how to balance a consistent writing habit with the rest of their full lives.
If YOU want to be happy, you've got to get back to writing. 
What needs to happen so you can realign your life with your personal writing goals?
p.s. – Writing resistance can be subtle. If you need help uncovering your personal blocks to writing, charting a career-building path and forming consistent writing habits so you can prioritize and pursue a truly inspired writing career, reach out today and let's get you back on track.