I thrive when taking risks. Not physical, adrenaline-fueled ones. Creative risks. Never do I feel more alive than that moment I'm stepping it up and daring to be visible, bold, true to my inner guidance and crystal-clear in my intention – more often than not to serve others in some way.
How do you take creative risks in your own life, craft or career?
I take creative risks when I dare to say the truth in a coaching session.
I take creative risks when I discover simpler, more compassionate ways to set a boundary with my young daughter.
And I take creative risks when I step onto the stage and sing.
Singing's on my mind, lately, as a few months ago I said "yes" to a performance opportunity in April. As I mentioned in my last note to you, the last time I've sung a set of music as a featured singer-songwriter was in March 2007. Since then I've performed at open mics and sat in on friend's shows. But next month, I'll be taking the stage on my own, singing a full set of my own songs along with my favorite blues, jazz and Americana tunes.
I'm excited. And truthfully? I'm scared, too!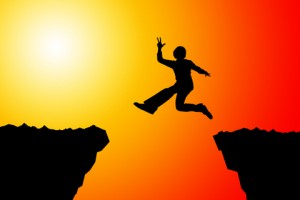 In my own life, work and art, I've learned to lean into challenges and opportunities that come my way, creative risks that have the potential to help me grow as a person or an artist. Trust me, most of the time I'd definitely be more comfortable if I did NOT say yes to these things, but when I'm taking creative risks, I feel most engaged, alert and alive.
I'll bet you do, too.
Ask yourself if it's time to take a creative risk with your writing. If so, I've got some ideas to get you started:
Is there a writing conference you can sign up for?
An essay contest you can enter?
An invitation-only critique group you can apply for?
An online or local class to ramp up your craft and confidence?
The secret to successful creative risk-taking is made up of two parts:
Creative Risk-Taking Tip #1 – Put a Date on It.
If you're like many of my clients, you've got a busy life and no shortage of responsibilities. Creative risk-taking can help you anchor your writing into your life when you get your calendar involved.
What days will you write?
When is your meeting/conference/class?
What piece will you have to draft or complete?   By when?
Just as I've got my upcoming performance ("April 17th," oh my!) in my calendar in bold ink, you should assign yourself a big deadline, too. Creating structure is a critical skill to move your creative work forward. "Putting a date on it" is one of the easiest ways to make your creative writing and need for creative practice more tangible, more real.
Creative Risk-Taking Tip #2 – Enlist Support.
After many years, I've discovered who I can count on for creative cheerleading and support. There are certain people I call as soon as I get good news. There are a few others I won't rehearse in front of.
It's important to consciously choose you go to for what feedback. Some key points to keep in mind:
Don't be surprised when some of the people you are closest to can't support you in going for a new creative goal. Creativity cuts to the heart-of-hearts. Not everyone is able or experienced in opening themselves up to this profound symphony. Protect your own confidence and focus your need for support elsewhere.
(Reiterating the point above), sometimes my clients tell me their beloved partner isn't able to cheer them on or help them feel more confident or brave. If this is you, be clear with yourself and resist the temptation to go to him or her for creative confidence or writing feedback. That's what writing friends are for.
Regarding partners, know that sometimes feedback isn't all-or-nothing. One of my clients once told me that her blocked-artist husband turned out to be a kick-butt proofreader! If this sounds like your friend or partner, get him or her involved with your writing when the time is right. Make sure you protect your work, your writing practice and your confidence until then, though.
Not everyone has access to creative friendships, peers or support. If this is you, I'm here to tell you: the support you need is out there. It's up to you to take charge and find the support you need. Coaching groups, like my upcoming Get Back to Writing group coaching program, will help you feel connected and supported as you write. Good writing classes can do the same. Trust me, even if it doesn't feel like it in your life, town or career, "your people" are out there. It's up to you to find them.
Stay tuned next week, when we'll talk about the nitty-gritty of creative practice. I've got some practical success tips I'm using myself that will help you get back to writing more easily and happier.
With love from your coach,