It was a cold D.C. morning, March 1993.
"Look a' her!  "Takin' a pitcher o' that ol' broom…"
I'd framed the shot carefully, and as I clicked the shutter, two street guys slowly trudged by.
"Uhn-huh," said his friend, shaking his head.
I looked up.
Although I'd been delighted by the moment, happily documenting light and texture, contrast and music in the dirty, discarded mop I'd found, I felt a little stab in my heart.
I couldn't help but feel a bit lonely, as I watched the two men shuffle across the street.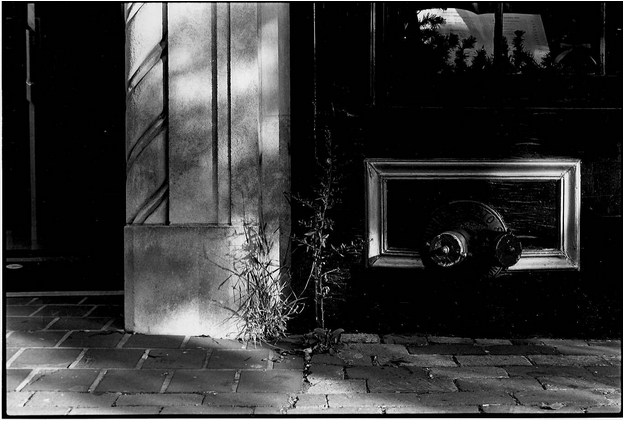 "Sidewalk" – one of the photographs I made that morning.
[Photo by Marla Beck, c. 1993-2014.]    
* * *
Fourteen years later, on an early spring night, I stood on a stage in Berkeley, California. I was the night's showcased singer at Anna's Jazz Island.
8 ½ months' pregnant with my daughter, I wore a black-and-white maternity top over my elastic-waistband pants. (I did my best to sing as if I wore an evening gown.) 🙂
My friends, 25 of them, filled the tables near the stage and cheered me on. I sang a few standards (including one of my favorites, "Stormy Weather"). I sang a song I'd written, too.
Warmed by applause, I trundled over to see everyone after my performance.
My friends poked fun at my "pregnant jazz singer's" physique. Some excitedly told me how surprised they were by my voice, and how big my sound gets when I sing the blues.
I loved everything about that night! Although I'm a petite person, that night, in sound and presence and courage, I was "big." Visible.
* * *
Flash-forward to this past weekend.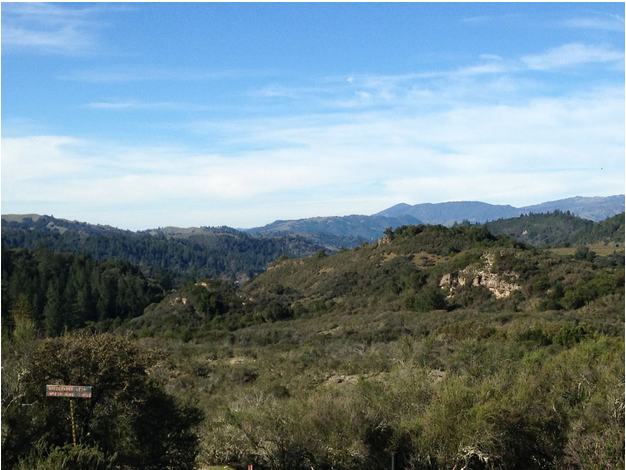 I spent 3 days with a business mentor and a small circle of other creative entrepreneurs at a weekend retreat in Calistoga, California.  In a small yoga room on a ridgetop in Napa Valley, we tried on new ideas and set new intentions for our work.
The business insights were powerful.
Even more helpful was the moment I realized something important:  Almost without noticing, I'd let myself lapse back into hiding.
I realized how "quiet" I've been keeping, mostly around people I'm still getting to know –
…hiding behind my laptop,
…hiding behind my to-do list,
…hiding behind my roles and habits and….etc.
I have always been a strong and passionate, coach and friend.  (My writer-clients tell me they appreciate my quiet forcefulness, when needed.)
But I've been holding back my color and my stories from you, dear reader.  And now I'm ready to change that.
Starting next week, I'll start to share some stories with you…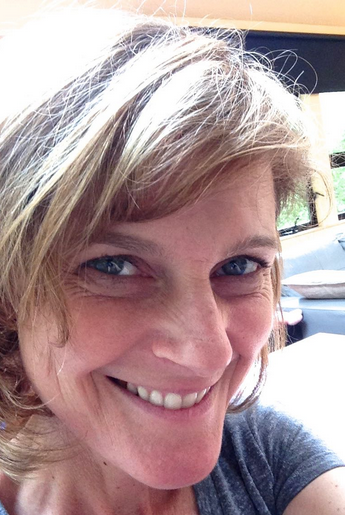 …and I hope you'll recognize yourself and find something useful to help you step out more boldly in your writing life, career and business, just like my inspiring clients, who in the past half-year have found the clarity and courage to:
– write and finish book proposals, novel drafts,
– fire their agents,
– discover new genres,
– set clear, liberating business boundaries, and
– re-discover how happy they feel when they make more time to write what matters most.
I'll see you soon, and until then I hope you find fresh courage to be yourself and speak up a little louder today, on and off the page.
with love from your coach,

About Marla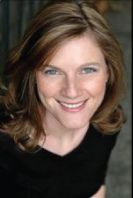 Marla Beck, MFA, is on a mission to help writers live with clarity and achieve their writing goals from the inside out.  A certified professional coach since 2005, Marla has helped hundreds of freelance journalists, fiction writers and others to take charge of their careers and finish books and other important writing projects.
Marla's thoughts on writing have been featured in The Productive Writer (Writer's Digest 2010), Writer's Digest magazine and online at The Renegade Writer,WordCount,The Writer's [Inner] Journey and elsewhere. An avid QiGong student and performing singer-songwriter, Marla lives with her husband, daughter and cat in Marin County, California.
Download your free copy of Fire in the Belly:  3 Keys to An Inspired Writing Career here.