Today I'd like you to meet Pamela Toler, an author, historian and long-time coaching client of mine.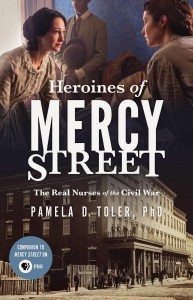 Pamela just published "Heroines of Mercy Street: The Real Nurses of the Civil War," a companion history to the new PBS series about the women who worked as nurses in the Civil War. Pamela's book is an Amazon #1 Best Seller in U.S. Civil War Women's History , and is earning praise as a well-researched, accessible history of the remarkable, brave women who helped to create the nursing profession.
Perhaps like you, when Pamela and I started coaching she already had a successful career. Coaching with me helped Pamela take charge, go for her big goals and redirect her writing career, step by step.
You can get your own projects done, too. Read on for inspiration!
How She Did It:
3 answers from author and historian, Pamela Toler, Ph.D.
Please tell us about your writing path.  What's happened for you in the past 2 years, Pamela? 
A little more than ten years ago, I left a secure corporate job to write full time. I had a new degree that would open a few doors, a lifetime of thinking about what writing as a job would entail (thanks, Mom!), a couple of year's practical experience of freelancing, and half a financial parachute. It was a struggle at first. It took time to reach the point where I had enough work coming in to be comfortable.
A couple of years ago I reached the conclusion that though I was doing work that was both interesting and dependable, I wasn't making progress toward my larger writing goals. I decided to take another chance, let go of some time-consuming bread-and-butter work and began to reach out for higher profile jobs. It wasn't an easy choice. In fact, it was terrifying.
I haven't reached my goals yet, but I'm getting closer.
What drives your writing?  What work do you hope your writing will do in the world?  
In the 1920s, an Englishman named Edward Thompson wrote a book titled The Other Side of the Medal, in which he looked at the Indian Mutiny of 1857 from the Indian perspective, turning the popular British image of the revolution on its head. When I first read his book, it was a revelation.
Today a lot of the historical topics that catch my imagination could be described as "the other side of [fill in the blank]. " I'm committed to telling the historical stories that let my readers see the world from a different perspective. Not just "wow, I didn't know that", but "wow, I never thought about that."
Do you have a tip for aspiring authors out there, folks who may be struggling to find the clarity, time or focus they need to write a book they're proud of?
If you meet with a financial planner about saving for the future, they will usually tell you to pay yourself first: take the money you want to save out of your paycheck before you pay for anything else. If you want to write a book, you have to do the same thing with budgeting your time. Pick a time for your writing, no matter how small, put it on your calendar and protect it against all demands–with a fiery sword if necessary. Even as a full-time writer I have to do this for my passion projects. Otherwise, life will fill in all the available time.
_________________________________________________________
Hope you enjoyed this interview, and know that when you're ready to dig in and move your life and career in the right direction, I'm here to help.
With love from your coach,