A few years ago, I worked with a writer I'll call "Trudy."  Trudy was a thoughtful, ambitious woman who cultivated a busy personal life and a successful career she truly cared about.  In nearly everything this determined woman focused on, Trudy excelled. On paper, you'd say Trudy had "made it" — for Trudy consistently made meaningful contributions through her work, enjoyed the respect of her professional community and drew a solid income she was proud of.
Despite her obvious successes, something often gnawed at Trudy's heart.  The terrible, grating ache came in the middle of the night sometimes, and often when she was supposed to be relaxing on her vacation.  
"When are you going to write?" said her inner voice.
"Someday…" she'd tell herself.  "Someday, I will write."
After a few more years of denying herself the creative and intellectual joys of writing, Trudy lost her mother.  Her craving to write intensified, and Trudy could no longer ignore her inner voice.
Trudy's world began to quake.
You see, Trudy's mom was one of her biggest believers in Trudy's creative talent.  Her mom saw her as a success, yes.   Her mom also remembered the many books Trudy wrote as a child.  She remembered her avid, constant reading.  
Trudy's mother knew the truth.  Trudy's mom knew her as a writer.
So, there sat Trudy.  
A year after her mother's death, the writing ache had become so gritty and painful that it became impossible to deny.  Trudy was at a decision point.  
Would continue to shelve her writing ambitions until retirement (or the perpetual string of "somedays" that never seem to come)?  
Would Trudy continue to try ignoring the truth of who she was, deep down inside?
Would Trudy press past the soul pain to continue on with her accomplished (but fundamentally unfulfilling) life?
Trudy writhed in conflict for several months.  She wanted to take action, but she was scared.  She wanted to unleash her creativity and devote at least a little of herself to her writing each day.  Could she do it?  Her terror was real!
Then, emboldened by a fleeting sense of possibility and courage, Trudy took a risk.  She reached out to me, and not long afterwards we got to work on re-enlivening her creativity and incrementally shifting her life and focus to create a more satisfying, more writing-centered life.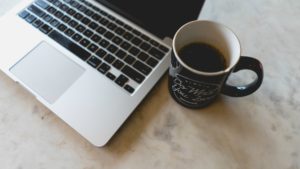 Trudy crafted a daily writing practice that she cherished.
Trudy set small goals that helped her to eventually complete the novel she'd wanted to finish for years.
Trudy re-imagined her life and work and relationships, and together we found ways for her to integrate creativity into many more areas of her life.
Trudy "became a writer" because she knew that, to be fully true to herself and authentically alive and happy… she had to.
Trudy morphed quickly into "writer" because she used the expertise, advice and proven system of a seasoned professional coach to help her transform her life, her creative focus and her productivity.
Trudy began to feel better (and more fully honor her mother's memory) the moment she reached out for help.
Please take Trudy's story to heart.
If you're living with a writing ache that won't go away…

If you're dying (on the inside) to finally complete your writing projects and move forward with your writing ambitions…

If you're ensconced in a very full life and don't know where to begin to bring your focus back to your writing…
…you can access a simple path – one that won't upend your life — to liberate your writing practice, your productivity and your sense of what's possible for you and your writing career.
If you're ready for help, reach out to me here and we'll set up a time to talk about your writing goals and challenges.  
Don't wait.  Your fulfilling life and creative practice is waiting.