Were you lucky enough to see the solar eclipse yesterday?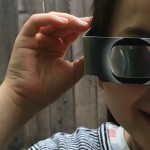 Here in California, we experienced a partial (78%) solar eclipse, and much of the U.S experienced much more.  Perhaps you were lucky enough to be in the path of totality!  If so, I envy you.
To honor the event, yesterday morning, just as the eclipse begin, my ten-year-old and I trekked up a hilltop ridge with a pair of eclipse glasses, a homemade projector made from a cracker box, a bag of snacks, towels for ground-cover and a second makeshift projector consisting of two pieces of cardstock, a bit of aluminum foil and a pinhole.
The forecast was partly cloudy.  As you can see, the skies were definitely more "cloudy" than "partly:"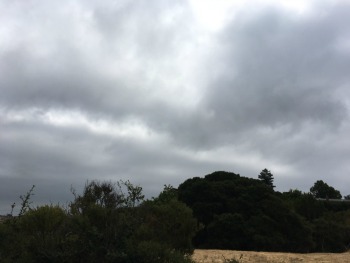 Occasionally though, the clouds parted and the sun shone through.  Sometimes we discovered the visibility ourselves;  other times our eclipse-watching neighbors, a quartet of feisty, dog-walking women in their 60s sporting goofy looking eclipse glasses, yelled over to us:  "Now!  Now!  You can see it now!"
There's something very heartening about enthusiasm.
As anybody who's coached with me can tell you, the moment we began coaching together, I guide them through a fun, powerful process designed to fire up long-dormant passions, creative habits and curiosity.  As a result, they rebuild writing habits, finish manuscripts and go for goals they've wanted to pursue for years.  Best yet, achieving their writing goals feels FUN, not daunting.
What sparks your curiosity?  What lights your creativity or ignites your connection to yourself, nature or others?
Do that thing.
If you don't fire yourself up, you risk coasting through your life feeling comfortable but never fully alive – always avoiding well-meaning family members who innocently ask you (over and over and over)…"How's the book?"  or "Have you pitched The New York Times yet?"
The path to highly productive writing and an on-track writing career is much shorter than you think.  If you've lost your way (or can't get out from under the pressures of your freelancing business (or full-time job), contact me TODAY.
January 2018 is right around the corner.  Start now, and you'll have time to create the writing habits and fulfilling career trajectory you've always wanted.